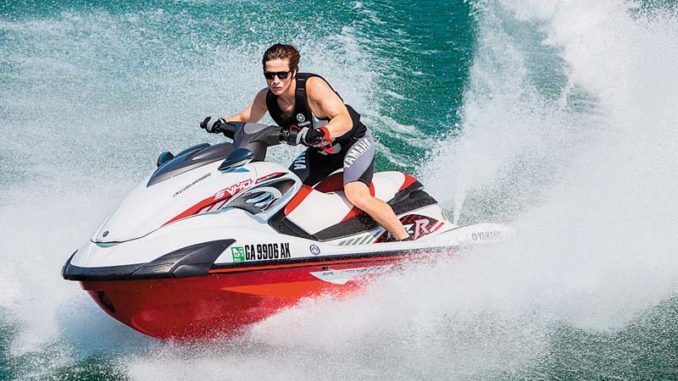 Downloadable Yamaha WaveRunner repair manuals are digital repair books used to fix or mend a jet propelled recreational watercraft back to working order. These digitally delivered instruction books are instantly transferred from one computer system to another via the Web.
Yamaha WaveRunner repair manuals are how-to books that were originally developed by the Yamaha corporation and distributed to dealership mechanics and authorized repair shops. These same manuals are now available for instant download for private use.
What's in a Yamaha WaveRunner repair manual?
In short, everything! A Yamaha WaveRunner repair manual, also termed Yamaha Jet-Ski service manual or Yamaha PWC online factory workshop manual, details every aspect of maintenance, troubleshooting and repair. Whether adjusting a throttle cable, making carburetor adjustments or overhauling the engine, a Yamaha repair manual covers it all.
Pictures, illustrations and diagrams are strewn throughout each repair manual to ensure the person performing service or repair successfully completes the job. Here's a list of main chapters and subsections typically found in a Yamaha WaveRunner repair manual (actual topics will differ depending on year and model):
General Information
Primary I.D. number

Model serial number

Jet pump unit serial number

Hull identification number

Safety precautions

Special tools
Inspection And Adjustment
Throttle cable adjustment

Steering column bushing

Choke cable adjustment

Trim control cable adjustment

Steering cable adjustment.

Cable adjustments

Fuel system inspection

Trolling speed adjustment

Carburetor adjustment

Oil filter inspection

Oil pump cable adjustment

Oil injection pump air bleeding

Spark plug checking

Battery checking

Impeller checking

Water inlet filter checking

Bilge strainer inspection

Drain plug inspection
Fuel System - Fuel Injection
Exploded views

Fuel injection specifications

Fuel pump module

Fuel sender

Fuel rail and injector

Fuel hose

Fuel pressure measurement

Air filter case

Air filter element

Throttle body assembly

Fuel tank

Check valve

Fuel filler neck and hose
Engine
Exploded views

Engine specifications

Service points

Shim removal

Engine mount

Coupling clearance

Muffler assembly

Reed valves

Cylinder head

Cylinders

Pistons

Piston pin clip

Piston ring

Piston ring and bearing

Starter motor

Armature

Bush holder

Starter motor front cover

Electrical unit

Flywheel magneto

Drive coupling

Idle gear assembly

Flywheel cover assembly

Crankcase

Crankshaft

Intermediate housing

Bearing

Driven coupling shaft

Grease hose

Oil seal

Turbocharger (if applicable)
Hull And Hood
Exploded views

Hull and hood specifications

Handlebar assembly

Trim grip

Trim control cable

Trim grip guide

Engine hood cover

steering column and busing

Steering column clamp

Steering cable

Steering cable stopper

Throttle cable and choke cable

Cable adjustment

Nozzle control cable

Seat, storage box and battery

Seat lock

Exhaust system

Deck

Air ventilation system

Gunwale

Mats

Hull repair

Shallow scratches

Deep scratches

Cracks and punctures

Graphics and decal
Maintenance
Periodic service

Maintenance schedules

Maintenance specifications

Tune-up procedures

Engine maintenance

Jet pump maintenance

Hull and hood maintenance

Electrical maintenance

Torque specifications

Hose routing diagams

Cable routing diagrams
Fuel System - Carburetor
Exploded diagrams

Fuel system specifications

Fuel system inspection

Fuel line

Oil tank

Check valve inspection

Oil flyer inspection

Oil level switch inspection

Oil tank inspection

Fuel tank inspection

Pipe joint

Carburetor unit cover

Carburetor unit

Throttle valve synchronization

Choke cable and throttle cable

Oil pump cable

Diaphragm

Float arm

Regulator body assembly

Needle valve

Jet and carburetor body

High and low speed screw

Fuel pump

Fuel pump filter

Oil hoses

Check valve

Oil pump

Oil pump cable
Jet Pump Unit
Exploded views

Jet pump specifications

Nozzle deflector and nozzle ring

Impeller duct

Impeller housing

Intake duct

Impeller ducts and drive shaft

Oil seal and busing

Rubber seal

Bushing and oil seal

Cooling and bilge system

Bilge strainer

Bilge hose
Electrical System
Electrical components

Electrical specifications

Electrical box

Electrical analysis

Low resistance measurement

Ignition system

Wiring diagrams

Ignition spark gap

Spark plugs and caps

Ignition coil

Engine stop switch

Charge coil

Pulser coil

Thermo switch

CDI unit

Starting system

Battery

Starter motor

Wiring connections

Fuse

Starter switch

Starter relay

Multi-function meter

Charging system

Lighting coil

Rectifier and regulator

Warning system

Overheating warning indicator

Oil level switch

Display function

Fuel level gauge

Oil level gauge

Speed meter

Speed sensor
Troubleshooting
Engine will not start

Rough idling

Engine stalls

Engine will not turn off

Poor performance

Overheating

Loose steering

Bilge increase

Irregular warning indication
Easy-to-understand, step-by-step repair instructions are given, including part removal, disassembly, cleaning, inspection, assembly and reinstallation procedures. When necessary, component testing procedures are detailed e.g. testing switches, electrical system, etc.