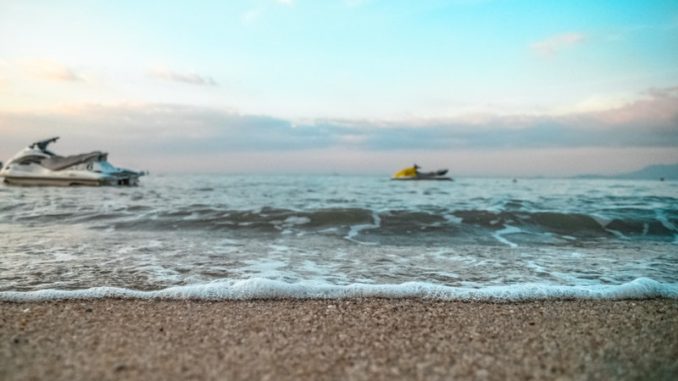 A repair manual is a book of instructions. A repair manual is also termed service manual or shop manual. A Yamaha WaveRunner GP1200 repair manual is a book that contains a set of instructions on how to service or overhaul a personal watercraft (PWC) back to working order. Click here to download manual. 
Yamaha GP1200 WaveRunner repair manuals come in two different formats; printed publications or digitally downloadable manuals. Printed manuals are hard to find because the GP1200 was manufactured and sold between the years of 1997 thru 2000 and so where the manuals. So finding a manual today is not only difficult, people want a lot of money for them.
The good news: You can download a Yamaha GP1200 repair manual straight to your computer, tablet or smartphone is seconds. The same digital manual also covers the GP760 model for the same years. Even better, you don't need any special software to download and view the GP760/GP1200 manual because it is in .PDF format. This file format displays the electronic book in a way that is identical to a printed book. In fact, technically the book is a digital copy of the original factory repair manual.
So what's in a Yamaha WaveRunner GP-1200 repair manual. Meaning, what type of information does it contain? Can it help you rebuild your motor, do simple or complex repair jobs? Absolutely! In fact, this manual is the same exact manual dealership technicians and your local JetSki repair shop use to perform maintenance, service and repairs to your jet-propelled vehicle.
Main Chapters In Manual
General Information

Specifications

Periodic Inspection and Adjustment

Fuel System

Engine

Jet Pump Unit

Electrical System

Hull and Hood

Troubleshooting
The repair manual is hot linked to help you locate the information you need fast. If you need to know how to replace a piston, just click on the corresponding link to the left the manual to navigate your way to those directions with the click of a mouse. If you need to rebuild the carburetor, click on the chapter labeled "Fuel System" and then corresponding link from the dropdown menu.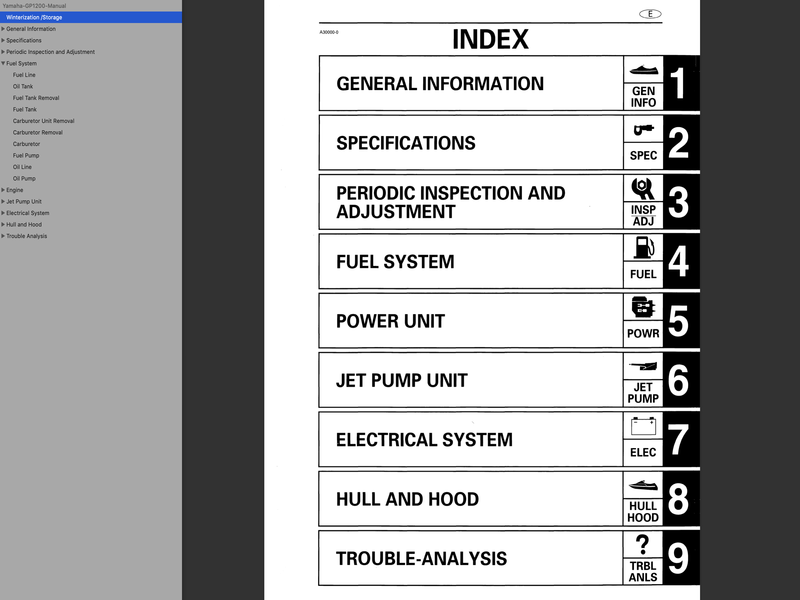 This isn't to say that anyone should attempt to rebuild their own carburetor or overhaul the engine if they do not have mechanical know-how or the tools needed to do the job. But it is critical you have the manual in the event you will be overhauling parts on your watercraft. The manual is also great when performing maintenance. The troubleshooting guide is helpful for those that need to trace and correct faults in the mechanical system or electronics, especially when the source of the problem is unknown.
If you're going to do any type of maintenance, service, troubleshooting or repair to your Yamaha GP1200 or GP760 personal watercraft, or you just want to learn more about the inner workings of your Wave Runner, make sure you download the repair manual. It is model and year specific and it just takes seconds to obtain it.
Searches related to yamaha waverunner gp1200 manual
1997 yamaha gp1200w waverunner owner's manual
1998 yamaha gp 1200x break in procedure
1999 yamaha gp 760 waverunner service manual pdf
2005 yamaha fx cruiser ho owner's manual
2000 yamaha fx140 owner's manual
2001 yamaha suv 1200 service manual