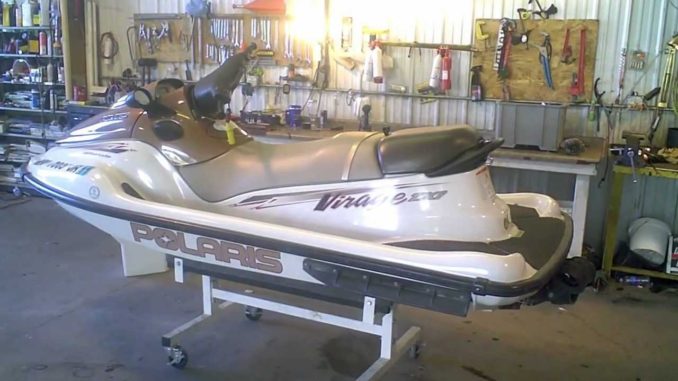 A downloadable Polaris jet-ski repair manual, also termed Polaris wave-runner service manual or Polaris personal watercraft online factory workshop manual, is a digitally transmitted book of repair instructions that gives detailed repair information on how to fix, mend or overhaul a jet-propelled recreational watercraft vehicle.
These downloadable Polaris handbooks were initially developed, published and distributed by the manufacturer so that privately owned repair shops and dealership technicians can fix their products. These same Polaris jet-ski manuals are now available for instant download to the public.
What's in a Polaris jet-ski repair manual?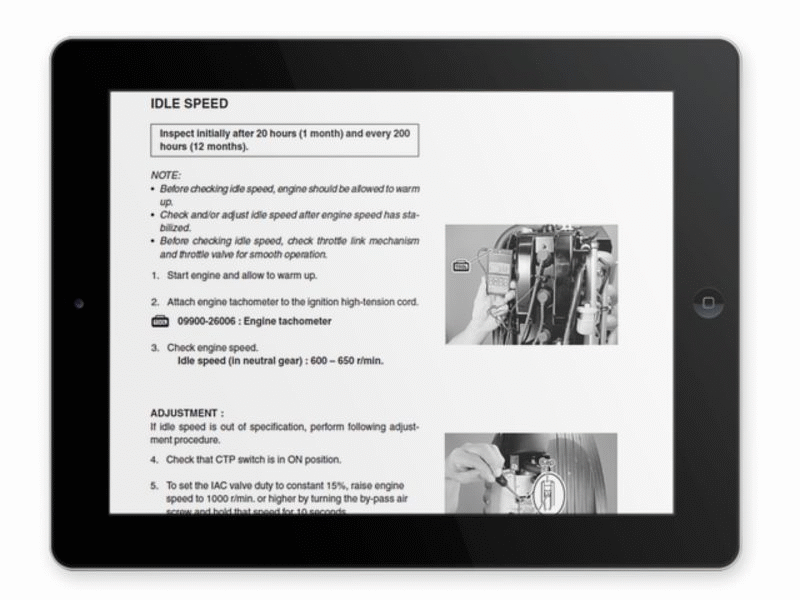 In short, everything! Polaris jet-ski repair manuals cover every aspect of  maintenance, troubleshooting and repair. Whether performing a routine tune-up or rebuilding the entire engine, a repair manual covers it all.
Every manual is model year specific. That means each manual was tailored for that exact machine. It contains easy-to-understand step-by-step repair procedures, and a wealth of diagrams, illustrations and pictures ensure the repair job you're undertaking is completed successfully.
Here's a list of main chapters and subchapters typically found in a Polaris WaveRunner repair manual (actual topics will vary depending on year and model):
General Information
Paint codes

Model identification

Model specifications

Standard torque specifications

Decimal equivalents

Conversion table

Tap drill charts

Glossary of terms

Service tips
Fuel System - Carburetor
Carburetor specifications

Carburetor exploded view

Carburetor jet part numbers

Vent and fuel delivery

Fuel tank and pickup

Air intake silencer

Water separator

Carburetor assembly

Oiling system exploded view

Oil tank removal

Oil pump assembly

Carburetor fuel hose connections

Carburetor system operation

Fuel pump operation

Fuel shut off valve

Carburetor adjustments

Carburetor tuning

Cable adjustments

Mixture screw adjustment

Fuel tank vent system

Fuel tank vent line routing

Fuel tank check valve testing

Fuel pump operation

Fuel pump maintenance

Reed valve

Reed cage and intake manifold

Reed valve assembly

Testing
Fuel System - Fuel Injection
Engine management specifications

Engine management system overview

Air inlet hose routing

Vent hose routing

Fuel tank assembly illustration

Fuel supply

Vent hose illustration

Fuel rail and injector illustration

Spark plug and ignition coil illustration

ECU mounting

ECU wiring harness connectors

ECU wiring illustrations

Engine management sensor circuit drawings

Engine management sensor circuit trouble codes

ECU connectors

ECU trouble codes

Electronic throttle body

PPU troubleshooting

Exhaust system illustration

Turbocharger and wastegate overview

Charge air cooler

Turbo troubleshooting

RPM limiting modes

Troubleshooting - engine will not turnover

Troubleshooting - engine cranks but won't start

Troubleshooting - engine stall; will re-start

Troubleshooting - engine stall; won't re-start

Troubleshooting - engine lacks performance

Troubleshooting - RPM limits

Troubleshooting - general
Electrical
Specifications

Spark plugs

Alternator

CDI box

Ignition timing

Warning systems operation

Stator coil

Ignition component specifications

Ignition system exploded view

Battery charging system

Electrical box

Battery charging system testing

Switch testing

Battery testing

Battery maintenance

Starter motor

Temperature warming sensor test

Fuel gauge testing

RPM limiter troubleshooting

Oil level sensor troubleshooting

Quick trim maintenance

Ignition system testing

Fall effect sensor testing

Ignition timing adjustment

Multi-function display troubleshooting

Weatherproof connector servicing

Electronic module function

Bilge pump

Wiring diagrams
Maintenance
Periodic maintenance schedule

Recommended lubricants

Lubrication points

Electrical

Engine and exhaust system

Cable adjustments

Fuel system and storage

Air intake

Cooling system maintenance

Engine fogging

Cleaning

Bilge siphon system

Electric trim adjustment

Submerged engine

Pump and impeller

Hull and deck maintenance

Troubleshooting
Engine And Cooling
Engine specifications

Engine exploded views

Torque chart

Torque patterns

Engine and mount assembly

Cylinder and manifold

Engine and mount assembly

Crankshaft and piston

Crankcase

Oil pump

Engine removal

Engine disassembly and inspection

Engine assembly and installation

Cylinder honing and port chamfering

Cooling system exploded view

Thermostat and coolant filter

Crankshaft indexing
Final Drive And Jet Pump
Torque specifications

Impeller part numbers

Driveshaft, coupler exploded view

Pump assembly exploded view

Pump assembly

Pump intake

Drive shaft inspection

Intake scoop and ride plate

Pump housing

Pump drive shaft alignment

Drive shaft lubrication

Coupler

Ventilation, cavitation diagnostics
Hull, Deck, Steering And Controls
Seat assembly exploded view

Steering assembly exploded view

Deck assembly exploded view

Front compartment assembly

Steering cover, steering post

Steering cable replacement

Steering cable adjustment

Speedometer operation and inspection

Dash and control panel

Decal replacement

Wire clip replacement

Hull repair

Sponson

Through-hull fitting
Troubleshooting
Lean condition

Poor performance

Rich fuel mixture

Piston damage

Engine overheating

Engine won't start

Engine stalls

Engine idles rough

Electrical

Fuel system

Jet pump
Subsections in each manual cover complete part removal, disassembly, inspection, cleaning, assembly and reinstallation. Part testing procedures are also provided when applicable.
If you're unsure to the cause of a problem or malfunction, refer to the troubleshooting guide. The troubleshooting section was developed to solve serious problems. It will help you track and correct faults in the Polaris's mechanical or electrical system.